Available Colors: Light Mahogany, Dark Mahogany, Dark Walnut, or Light Walnut

The Humidor Locker Model 8548 is a solid wood humidor with 22 individual lockers. Each locker is lined with Spanish Cedar and is humidified from one main humidifier that humidifies all lockers at the same time. The main locker cabinet has a 4 inch open-air back to allow proper air circulation.

These lockers are usually sold to tobacco shops, high end restaurants, cigar lounges, ect.

The exterior dimensions ofy the Model 8548 is 57 inches wide, 85 inches high and 20 inches deep.




Each individual lockers interior is 12 inches high x 11 inches wide x 16 inches deep and has a wire mesh back allowing the humidified air to enter the individual locker space. We have found by using this wire mesh backing on each locker, it allows for even and consistant humidification of your cigars.


Each Humidor Locker Model 8548 has fluted columns with decorative bases, large crown mouldings, and decorative trim.


Every locker is keyed seperately. No two locks are keyed the same. There is a Master Key that will open any and all lockers in the group. If you have any special concerns or request with regard to locker keying, please make your request at the time you place your order.



The Humidor Locker Model 8548 comes standard with one HS-1 electric humidifier that has an auto on-off feature, and is located in the lower left hand corner of locker cabinet. This is the reason you are getting 22 usable lockers out of a cabinet that looks like it has 24 lockers. Two of the lockers in the bottom row by the floor are convereted here at the factory to accommodate the electric humidifier. The humidifier is equipped with an 4-inch air circulation fan that vents upward, and the air intake is located on the right side of the humidifier, allowing a clockwise rotation of humidified air within the humidor locker.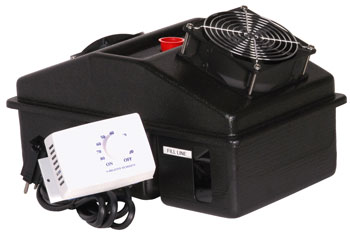 Click on Photo for Larger Image


This is a active humidifier with an adjustable humistat. This is by far the best humidifier that you can purchase for this humidor locker. The accuracy of this humidifier is +/-5% in humidity.



This humidifier requires no chemicals to be added and because of the design, it will preserve your cigars better than other humidifiers. No refilling for longer periods because it holds about 1 gallon of water. The HS-1 active humidifier is manufactured by The Humidor Store.

Model 8500 Options Available (additional cost):



The Western Caliber digital hygrometer gauge accurately measures and displays relative humidity and temperature to assure your cigars are stored in the ideal conditions keeping them in prime smoking condition. Unlike analog gauges, the Caliber never requires calibration, there are no springs to stretch or moving parts to wear out.
This option is an additional $38.00.



1 (800) HUMIDOR
1 (800) 486-4367